Emergency Health Care Preparedness
The Emergency Information Form (EIF) for Children With Special Health Care Needs is available as an interactive PDF file to complete online or print and complete by hand.
Emergency Information Form (pdf)*
This important document helps to assure prompt and appropriate care for Children with Special Health Care Needs (CSHCN) when patients present to emergency departments or health care professionals with an acute illness or injury. The EIF is designed to assist physicians, parents, EMS professionals, and nurses in transfering critical information.
Emergency Evacuation Preparedness
A publication, EMERGENCY EVACUATION PREPAREDNESS - Taking Responsibility for Your Safety, A Guide for People with Disabilities and Other Activity Limitations, will walk you through the planning needed to prepare for emergency evacuations. This guide focuses on people with disabilities
and activity limitations successfully evacuating buildings.
Emergency Evacuation Preparedness (pdf)*
It was created by the Center for Disability Issues and the Health Professions (cdihp.org) and is provided by permission. It is also available through the State of Alabama Governor's Office on Disability (GOOD) (www.good.state.al.us).
__________
* You will need the free Adobe Reader software to open these files. If you do not have it, get more information on our software page.
Can't find what you need?
Contact Us and we will do our best to assist you!
DISCLAIMER: Within this web site, there are links to "outside sites" which are not managed by the Family Voices of Alabama (FV of AL). FV of AL does not endorse nor recommend the information or products posted on these sites, and receives no payment or other consideration for providing these links.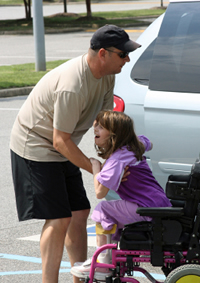 Resources
Downloads
- Emergency Healthcare Preparedness
- Emergency Evacuation Preparedness
- Your Medical Bills: A Consumer's Guide to
Coping with Medical Debt
- Personal Care Attendant Handbook
- Special Connection-Respite Handbook
- Youth Transition Planning Workbook
- Full Life Ahead: The Workbook


Visit us...