2017 Partners in Care Summit
More than 100 attendees came to Prattville's Marriott Legends at Capitol Hill Conference Center for the seventh annual Family Voices Partners In Care Summit, April 20-21.
View highlights below and read more at REHAB, the Alabama Department of Rehabilitation Services official electronic publication for ADRS employees at https://adrsrehabnews.com/2017/04/26/summit-unites-families-professionals-as-partners-in-care-photo-gallery-video/
The two-day family/professional development workshop aims to strengthen networks between families and care professionals and spotlights current challenges to developing quality systems of care for children and youth with special health care needs and their families in Alabama.

Conference attendees sign in to enter the Partners in Care Summit in Prattville

A conference attendee visits a vendor table

From left, Statewide Early Intervention Coordinator Betsy Prince takes a photo of Julie Beckett, Family Voices co-founder; Susan Colburn, state parent consultant; Melinda Davis, CRS assistant commissioner; and ADRS Commissioner Jane Elizabeth Burdeshaw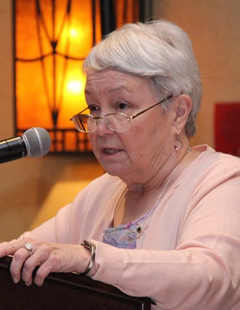 Left: ADRS Commissioner Jane Elizabeth Burdeshaw welcomes staff and families to the second day of the Family Voices Partners in Care Summit
Right: Julie Beckett, Family Voices co-founder, speaks about being a health advocate for her daughter during a time of change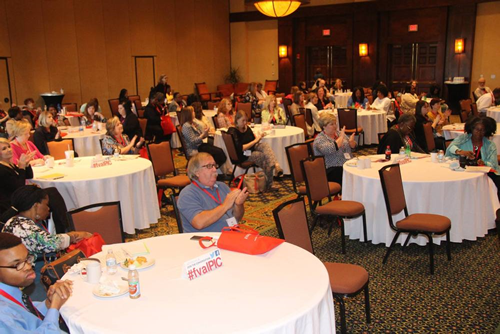 The audience applauds during the general session feature speaker Julie Beckett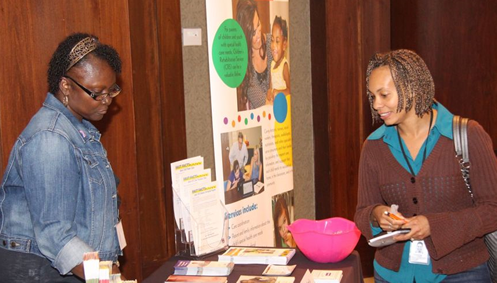 The Children's Rehabilitation Service exhibit table provides information to attendees about various services provided through the program

ADRS Commissioner Jane Elizabeth Burdeshaw provides a copy of the ADRS annual report to a conference attendee

Left: Jerry Oveson, Family Voices of Alabama co-director, comments on Jim Carnes' presentation
Right: Jim Carnes, policy director for Alabama Arise, expanded on concepts from Julie Beckett's speech and provided local information about what is going on with health care in the state of Alabama

View more Photos and Videos on the ADRS website
Summit unites families and professionals
Teen Transition Clinic important Piece of ADRS 'continuum of services"
Summit brings together Partners in Care