Family-to-Family Health Information Center's Partners in Care Summit
We hold an annual Family-to-Family Health Information Center's Partners in Care Summit.
Goals of the Summit:
Strengthen networks with other families and care professionals
Discuss current challenges to developing quality systems of care for CYSHCN and their families in Alabama
Develop strategies to strengthen partnerships between families and professionals, ultimately leading to improved outcomes for CYSHCN.
Gain skills and learn strategies to enhance leadership within organizations and communities
Visit our Video Training Library to view sessions from past Partners in Care Summits.
"What's Next?" Training
This series of trainings was funded by a grant from the Alabama Council for Developmental Disabilities (ACDD). The primary grantee was Alabama Disabilities Advocacy Program (ADAP). ADAP worked in collaboration with Family Voices of Alabama and Childrens Rehabilitation Service (CRS). Materials used during these trainings are archived on the ADAP "Transitioning to Adulthood: 'What's Next?' " website.
September 2011
Topic: Moving out of the Driver's Seat: Parents of "twenty-something" youths with disabilities will discuss how you can best support your child as he or she approaches adulthood to maximize independence presented by Denise Smith, Office of Disability Services, University of Alabama, and Susan Ellis, Shelby County ARC
October 2011
Topic: Social Security Basics for Transition Age Youth: An Introduction to SSDI (Title II), SSI (Title XVI) and Work Incentives presented by Donna Bowden, Alabama Department of Rehabilitation Services

November 2011
Topic: Medicaid Waivers for Youth and Adults with Disabilities presented by Nancy Anderson, ADAP
January 2012
Topic: Writing Powerful Transition IEPs presented by Nancy Anderson, ADAP
February 2012
Topic: Taking Care of Myself: Health, Sexuality, and Hygiene *A special event only for youth!* presented by Marsha S. Sturdevant, M.D., Fellowship Director Division of General Pediatrics/Adolescent Medicine, Children's  of Alabama UAB School of Medicine

March 2012
Topic: Navigating to an Adult Medical Home: Transitioning from the Pediatric Medical World presented by Claire Lenker, LCSW, CCM, Training Director UAB Ped. Pulmonary Center Children's Hospital
Youth in Transition Video
The Youth in Transition video is a training video from the Statewide Parent Advocacy Network in New Jersery on staying healthy for youth in transition. This video explains to young people with medical conditions or disabilities the importance of taking care of their health as they transition into adulthood and taking responsibility for themselves. Includes information on taking medicines, talking with doctors, carrying an emergency health information card, keeping a health care notebook, paying for health care, going to college and planning for accommodations, eating the right foods, exercising and more. Go to http://www.fyitransition.net/Minicourses/health/level1/player.html
ODEP Releases Making the Move to Managing Your Own Personal Assistance Services (PAS)
Whether moving from school or a home setting to work, college, or living on their own, transition-age youth with significant disabilities and their families or friends will benefit from the information in the toolkit. Accessing and maintaining long-term supports, such as PAS, has been a significant barrier to employment for youth with disabilities. This new toolkit assists youth in strengthening some of the most fundamental skills essential for successfully managing their own PAS: effective communication, time-management, working with others, and establishing professional relationships. Go to http://www.ncwd-youth.info/PAS-Toolkit
Guidelines and Videos on Social-Emotional Skills for Young Children
The Center on the Social and Emotional Foundations for Early Learning (CSEFEL) has several new resources available online, including:
How Do I Decide? Series of Guidelines - www.vanderbilt.edu/csefel/resources/guidelines.html
The first two installments in this new series provide guidelines on: How to Choose a Social-Emotional Curriculum and When to Seek Outside Help for Children's Problem Behavior.
Online Videos - www.vanderbilt.edu/csefel/resources/videos.html
Two CSEFEL videos, Promoting Social Emotional Competence and Practical Strategies for Teaching Social Emotional Skills, can now be viewed online in their entirety.
Alabama Parent Training and Information Network for Children with Disabilities
AL PTI NCD provides free information and training to families to assist them in becoming advocates for their children with disabilities. Training is focused on assisting families to
effectively access community support and other available resources, understanding special education law, increasing knowledge of and accessing alternative dispute resolution, and increase knowledge of other disability issues.
The AL PTI NCD project is sponsored by the Alabama Parent Education Center (alabamaparentcenter.com) and provides information and services to Alabama families with children ages birth to twenty-six with disabilities. The program is designed to empower and enable them to work collaboratively with schools and agencies to improve services for their children.
Learn more at: www.alabamaparentcenter.com
DISCLAIMER: Within this web site, there are links to "outside sites" which are not managed by the Family Voices of Alabama (FV of AL). FV of AL does not endorse nor recommend the information or products posted on these sites, and receives no payment or other consideration for providing these links.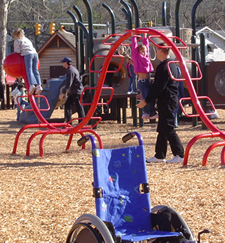 Our Programs
Family to Family Health Information

+ This Service is offered to help non-English speaking visitors use our web site. We can not guarentee that translations are correct. Please excuse any issues.