Request a Speaker for a Group Activity
Contact us by one of the methods below:
Family Voices of Alabama
1050 Government Street
Mobile, AL 36604-2402

Email:

Phone: 877-771-FVOA (877-771-3862)
Our Staff to Contact about a Presentation/Exhibit

Susan Colburn -
Gerald Oveson -

DISCLAIMER: Within this web site, there are links to "outside sites" which are not managed by the Family Voices of Alabama (FV of AL). FV of AL does not endorse nor recommend the information or products posted on these sites, and receives no payment or other consideration for providing these links.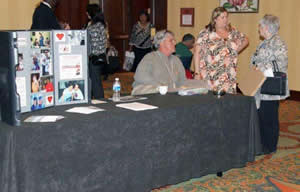 Our Programs
Family to Family Health Information

+ This Service is offered to help non-English speaking visitors use our web site. We can not guarentee that translations are correct. Please excuse any issues.